How to Alienate Your Audience — #TEDatIBM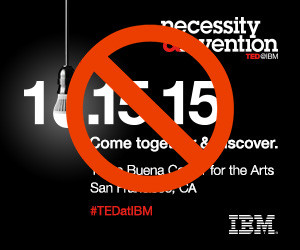 This will be the first post on this theme, but I guarantee it will not be the last.  To quote Albert Finney in the 1976 movie "Network", 'I'm a HUMAN BEING, God damn it! My life has VALUE!…I'M AS MAD AS HELL, AND I'M NOT GOING TO TAKE THIS ANYMORE!'"  Anyway, that's how I feel today after being dissed by TED and the CMO of IBM, Maria Bartolome Winans. I guess large companies like IBM and organizations like TED can be just as clueless about customer relationships as anyone.  But, seriously, they should know better.  Here's my story.
On September 30 my new BFF Maria Bartolome Winans sent an Exclusive Invite to my personal profile on LinkedIn.  Granted I didn't know Maria personally, I know that, but I figured that someone in her organization had compiled a list of desirable attendees and I had made that list. Cool. The invite encouraged me to share this with colleagues so they too could join me. Maria said she was really looking forward to seeing me. "This will be great", I thought.  I shared it with my colleagues, partners, and clients, encouraging them to join me. TED events are cool but they are usually challenging to get to so this was my chance to attend one and experience it first hand. I was stoked.
The event was in my backyard so I jumped at the chance to attend and replied to Maria Bartolome Winans immediately.  I got an immediate confirmation of my registration, thanking me respectfully and telling me that I would be getting more information in the next few days.  My first clue that this may be a bait-and-switch was the language that my registration was "pending", but they said they'd get back to me within a few days with details. I eagerly awaited their follow-up.
About 10 days later I got another notice "Thank you for your interest in attending TEDatIBM 2015. We will be calling you shortly to confirm your interest and complete your registration." They added, "We look forward to seeing you on October 15."  Again, I thought, "Cool.  Somebody's actually going to call me to make sure I will be there. They must really want me there."  At this point I'm still feeling special and excited about the event. I planned my week, called my clients and colleagues, blocked off my valuable time.
Fast forward to Monday October 12.  Three days before the event. I have clients and prospects that want to meet with me this week but I have organized them around my day in SF at the #TEDatIBM event.  But now I'm worried that I have missed some important information and I start to get concerned and frankly a bit suspicious.
Was my new BFF just playing with me?   Had I been "disinvited" and I was too clueless to know it?  Did she report to her boss that she had been able to overfill the event but that everyone would be happy to view the live streaming?
Surprise! I received this automated, impersonal email this morning, the day of the event.
——————-
TED@IBM 2015 — Please Join Us for the Livestream.
Thank you for your interest in attending TED@IBM 2015. Due to the extreme popularity of this year's event, registration has filled up in record time and is now closed.
Please plan on joining us for the TED@IBM 2015 livestream. You can register for the livestream here https://www-950.ibm.com/events/wwe/grp/grp004.nsf/v17_enrollall?openform&seminar=E8ET35ES&locale=en_US&S_TACT=C28601KM
Regards,
Maria Bartolome Winans
CMO, IBM Commerce, Mobile and Social
——————–
Now I'm seriously unhappy. How could this be? I responded the day I received the invite. They told me that I would get more information and they were looking forward to seeing me. It appears they strung me along, never really intending to have me at the actual event.  I assume they always intended to have me watch their Livestream in the comfort of my own office, and the personal invitation was just a backup plan They probably think I'm thrilled, when in fact, I have a business to run; clients and colleagues who will be very happy to see or hear from me today. They don't give a shit about TED or IBM. They just want my attention and I was prepared to dis them for TED. My bad.
I usually brush things off and just move on, but this one pissed me off and as a fellow marketer has me a little more than annoyed about marketing practices that use social media and more specifically my coveted LinkedIn profile as a way to market to me. I think that's the part that has me feel the most violated. My LinkedIn account is sacred, yet neither LinkedIn nor IBM took the time to consider that. I only accept invitations to those people who I have met personally or have an interest in partnering with. I'm very careful of who I let into my LinkedIn circle. I have over 500 connections.  Each and every one of those people are important to me and I would never reach out to them with silly postings, insincere invitations, or photos of my lunch. Isn't that what Facebook is for?  If this "invite" had been a general ad I could have accepted it for what it was, a broadcast, an awareness piece. But, since this was delivered to my personal profile, I was assuming that I had been vetted and they thought inviting me was valuable to them and their audience — and after all, Maria said she really wanted to meet me.
So, today I now know that I am unimportant and insignificant in the world of IBM. I guess Maria Bartolome Winans isn't my new BFF after all. However, now she has a great reason to reach out to me; to apologize. I may forgive her if she provides an all expenses paid trip to the next big TED event or at least take me to lunch. I may consider it. It would be a classy move but I'm not holding my breath. If she does I will let you all know.
#TEDatIBM